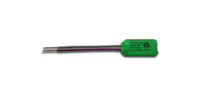 Have energy reduction goals to meet?
Has your state or locality enacted green power or energy reduction goals?
Do you work for a power utility now subject to renewable energy targets?
Have you heard of the California "Renewables Portfolio Standard" that sets aggressive power reduction and clean energy goals?
Or heard of the New York "Reforming the Energy Vision (REV)" that sets a goal of 70% renewables by 2030?

Many states now have Renewable Portfolio Standards (RPS), which require that a specified percentage of the electricity that utilities sell comes from renewable resources. Roughly half of the growth in U.S. renewable energy generation since 2000 can be attributed to state renewable energy requirements. These are real and everyone is looking to technologies to meet these goals.
One of the least expensive ways to add "green generating capacity" to an existing system is through conservation. Any amount of power saved is power that doesn't need to be generated by any method.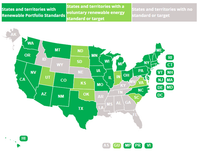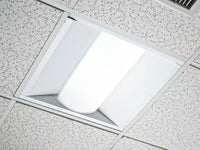 LED Level Set. Saves power. Cost effective. Helps meet energy saving targets
LED Dimming Solutions has a cost-effective way to reduce office lighting power consumption from 50% to 20%. Almost all office LED fixtures have an input - called the "0-10V input" - that sets the output level of the fixture. All the popular office LED fixtures installed in new construction and retrofit have these. The problem is that they generally aren't used so the fixture is always at 100%.
The LED Level Set device connects to the 0-10V input and sets the level to 50%, 65%, 80%, or 100%, configured simply from the existing on/off wall switch. Right after install, with no change, it sets the fixture level to 50%. That may sound like a lot but given how bright LEDs are, we have found that this level is perfectly acceptable in many situations. And, here is the best news: Set the level to 50% and the power consumption drops by 50%, set to 80% and drop the power consumption by 20%.
What's the bottom line here? Using LED Level Set with office LED fixtures provides an immediate power savings with almost no work and with very small expense. Plus, if you need, you can change the lighting level anytime with a quick procedure using the existing on/off wall switch.
Why the LED level Set should be installed in all LED retrofit jobs.
Simply connect to the 0-10V driver wires.
1. You can stock/purchase the higher power fixtures in a fixture line, which are usually the same price as the lower power, and set the level as desired later. Buy the 50W version for all jobs, instead of the 40W or 30W versions.
2. With LED Level Set, regardless of the fixture power, it can be set to 50%, 65%, 80% or 100% anytime later. 50% is the default. Contact us for a bulk order with a different default.
3. A 50W fixture runs much cooler set at 25%, 60% or 80% than a 25W fixture set to 100%.
4. A fixture running at less than full power makes the LEDs and Driver run much cooler – extending the life and eliminating maintenance and replacement costs.
5. 50% saves 50% of the energy (electric bill) – forever. The LED Level Set payback period at 50% is about 1 year.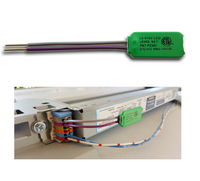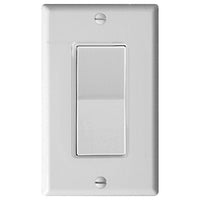 6. The cost of the LED Level Set in quantity is $9 with no installation cost or commissioning. The is far less than any hardwired or wireless or power line dimming system.
7. Most people, especially working with computers prefer a lower level to reduces LED glare.
8. Most people can barely tell the difference between 50% and 100%, the eye adjusts for light level automatically.
9. The level can be changed by the user or building managers any time as needs change.
10. Once the level is changed the level stays at that level, even after lights are turned OFF and ON, until the configuration procedure is used to set to a new level.